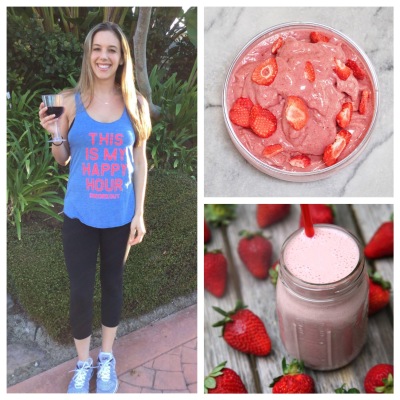 We love a good Happy Hour, especially when it's spent at Mantra! This week's limited edition tank says it all, "This Is My Happy Hour #IWorkOut." This tank will be available in studios on Monday...just in time for Sarasota's Happy Hour on October 5th!
If you're taking part in our Transformation Challenge or just watching your calories, you may not want to indulge in adult beverages at Happy Hour. We have a healthy alternative for you - Strawberry Milkshake Smoothies! Leah from Leah's Plate is sharing a delicious and healthy recipe that will take you back to childhood. Totally guilt-free!
This smoothie reminds of me being a kid and indulging in strawberry milkshakes during the summertime. However, this is my adult, perfectly healthy, non-dairy version of a strawberry 'milkshake'. It is made using almond milk, strawberries, banana, almond or cashew butter, coconut butter and cinnamon. The nut butter and coconut butter add healthy fats to this smoothie that will keep you full and satisfied. Using frozen strawberries and banana is key here, as that's what gives this smoothie it's thick 'milkshake-like' consistency.
STRAWBERRY 'MILKSHAKE' SMOOTHIE (VEGAN, GLUTEN-FREE & PALEO)
Author: Leah's Plate (www.leahsplate.com)
Recipe type: Vegan, Gluten-Free, Paleo
Cuisine: Smoothie
Prep time: 5 mins
Cook time: 1 min
Total time: 6 mins
Serves: 1
A thick and creamy smoothie that tastes like a strawberry milkshake!
INGREDIENTS
1 cup almond milk
1 heaping tbsp raw almond butter (or cashew butter)
1 heaping tbsp coconut butter
1 cup frozen strawberries
1 frozen banana
½ tsp cinnamon
Optional: 1 tsp ground flaxseeds
INSTRUCTIONS
Add all ingredients to a high-speed blender and blend until smooth and creamy.
Enjoy in a glass as a smoothie, or pour into a bowl and enjoy with a spoon (that's the best part about this - it's thick enough to eat with a spoon! Amazing right?! I added freeze-dried strawberries on top of my bowl.