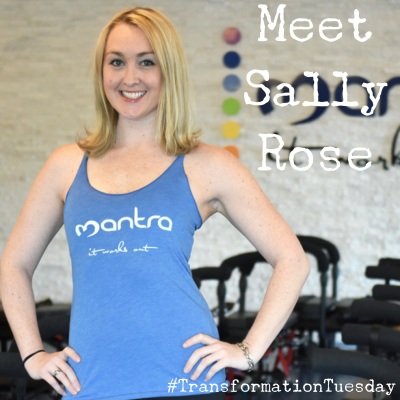 Meet Sarasota's newest trainer, Sally Rose! Sally Rose started taking classes at Mantra nearly a year ago. After discovering the amazing benefits firsthand, she decided to become a trainer to further share her love with others.

We're very lucky to have her and if you haven't had a chance to take one of her classes, get in there now! Read on for more of Sally Rose's Mantra journey...

What's your best advice for others who are just starting to work out at Mantra?
First, I should say congratulations on taking the first step on a transformative personal journey – be proud of yourself and be open to the experience. Think of it as a meditation, as well as an exercise class. The exercises are simple and clean, and will allow you to concentrate on breathing, resistance, and form. The classes won't get easier, but you will get stronger!
Tell us a little about your first few classes. How difficult did you find them?
When I started at Mantra I had a consistent meditation practice but no solid workout program. I tried different kinds of classes at various gyms and studios, but never found a particular routine that I wanted to commit to. I barely made it through my first Mantra class but instead of feeling frustrated or wanting to give up, I felt motivated to do better. The instructors were supportive and encouraging and didn't make me feel like I couldn't keep up or that I was too weak. I left my first class bright red, sweating profusely, and feeling sore all over my body but determined to try again. Within the first month I began to feel stronger and I noticed definition in my body, improved posture, and a feeling of internal relaxation. No matter how difficult the class is – and every class is difficult – I find myself craving the next class and the opportunity to push myself. There's nothing quite like the feeling of having pushed yourself further than you thought that you could.
What have been some of your biggest challenges along the way?
The most difficult challenge about Mantra is not talking about Mantra when you're not at Mantra. My friend Mary and I started attending Mantra together in November of 2015 and we made a considerable effort to go twice a week. We were so inspired to notice those tiny changes in our bodies that became more frequent and more noticeable. Our clothes fit us better, our muscles streamlined – higher, more toned, leaner, and longer. We were holding ourselves differently and talking about Mantra constantly.
Are there certain moves you find super difficult?
Each move starts out feeling uncomfortable until you understand which muscle you're supposed to be focusing on. Then, everything falls into place and you stop stressing your other muscles and your body responds in a streamlined way. In the beginning I just wanted to get through the workout and get it over with, but as I began to perfect my form the exercises began to feel like an intricate dance. I remember the first time that I was able to do Cobra – a move that seemed impossible during the first months – I was so excited and shocked to find that my body was learning these things. It seemed as though my muscles were having conversations without me about how to perform these moves that my mind was insisting that I was incapable of doing.
Has it been tough to juggle multiple workouts into your already-busy schedule every week?
Mantra makes you want to be there. The exercise is empowering and fills you with energy and endorphins. When I work out at Mantra in the morning I feel strong and ready to conquer the world. This has become my way of life. I have begun to focus on form and breath in every aspect of my life. I appreciate that the workout is challenging for everyone and we're all in it together. No one here is focused on how much you can or can't do, rather we're focused on the positive feelings we're generating as a group as we collectively improve ourselves during a workout.
What has joining Mantra been like for you, and what kind of support have you received both from your fellow Megaformer friends and the Mantra trainers and owners?
Mantra has gifted me a new set of friends, a new set of goals, and a new body. I have never been stronger and I have never appreciated my body this much. Everyone at Mantra is encouraging and supportive and will take the time to demonstrate form or explain the mindset behind an exercise. The instructors display individual talents and personalities and they will lovingly tease and empathize with you as you try to improve. The workout is clean and simple and the music and combination of movement and personality turn each class into an interactive show. You never feel as though you have attended the same class twice.
How far have you come since that first class?
I used to see people dressed in workout clothes at every hour of the day and judge them, now I wear my yoga pants all day. I'm no longer a red-faced, sore, and sweaty mess when I leave a class. I hold myself differently and I'm proud to be a member of a club filled with real, strong, supportive people. In September, I pushed myself to receive my instructor's certificate thanks to the help and encouragement I received from several other instructors and the support of Rachel, the head trainer. I began teaching group classes in October and I have never been more excited for a new chapter in my life. Mantra has changed my mind, my body, and my life for the better – I can't wait to help others to achieve these same feelings of personal accomplishment.