This is our last What to Wear Wednesday featuring our weekly limited-edition tanks. (Don't worry, we'll still have lots of fun content coming to ya on Wednesdays.) This week's tank pretty much sums up how we feel after a good Mantra class - everything hurts and I'm dying. Grab yours at the studio on Monday before they're all gone!

Some of us actually like that sore feeling we get after a hard Megaformer session, but muscle recovery/repair after an intense workout is very important. We're often short on time after a workout as well, so this week Leah from Leah's Plate is sharing a simple Superfood Trail Mix you can make ahead and much on in the car on the way home from Mantra...or just about anytime you need a healthy snack on-the-go. Grab a coconut water and pack your trail mix - perfect for helping that body recover.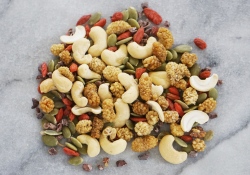 This Superfood Trail Mix has 5 ingredients. All are packed with vitamins and minerals that are great for your body. We've outlined some of the health benefits of these tasty ingredients.

Raw Cashews: Cashews are packed with vitamins, minerals and antioxidants such as vitamins E, K, and B6, along with minerals like copper, phosphorus, zinc, magnesium, iron, and selenium.


During strenuous exercise, a protein - known as CPK - seeps into the bloodstream. Vitamin E increases blood circulation and helps rid the body of CPK more efficiently. It also protects cells from damage-causing free radicals
.
Goji Berries: This superfruit helps to boost the immune system and is loaded with beta-carotene which helps promote healthy skin and eyes.
Mulberries: Mulberries are packed with nutrients such as iron, calcium, vitamin C, vitamin K, potassium, phosphorous, and riboflavin. They contain a significant amount of dietary fiber.

Vitamin C plays an important role in the healing process by building new protein for the skin, scar tissue, tendons, ligaments and blood vessels.
Pumpkin Seeds: Pumpkin seeds are full of nutrients such as magnesium, copper, protein and zinc.

Zinc will help your body use the fats and proteins you consume to promote growth and healing of the injured tissue.
Cacao Nibs: Cacao nibs provide important benefits to your intestinal regularity, heart and blood vessels and blood sugar level.
To make this delicious Superfood Trail Mix, simply take a handful of each ingredient and mix together. This will yield approximately 4 servings. Feel to portion out into individual snack bags for a quick, healthy snack on-the-go!
http://www.leahsplate.com/superfood-trail-mix/